Since I uploaded the videos of the frisbee thrower that my team built to YouTube, I have been getting questions about how the machine was constructed. Regretfully, the team dismantled the machine at the end of the project, team members graduated from school and moved across the country/world, and other than the videos, most other notes on the project are now gone.
I still receive plenty of messages and emails from people, especially high-schoolers and teams competing in robotic competitions, asking and requesting for more details on the construction of the frisbee thrower. I haven't been very helpful since I don't have all the answers (like the exact technique and parts that we used). I found some notes in my hard drive a year ago and post them to Slideshare.net. I don't think they are very useful – they are most sketches of prototypes. Nonetheless you can review them here if you want.
The good news is that I do want to help people who want to build their own version of the frisbee thrower. I will try to talk to from other team members and hopefully write a more detailed article on the construction of the frisbee thrower in the next few weeks. Hopefully, someone out there can learn something and build a more kick-ass frisbee thrower machine.
For now, maybe I can shed some light on the frisbee thrower to the people interested in building the machine by highlighting some of the key elements of the machine. The following video demonstrates how the machine is build. Watch carefully…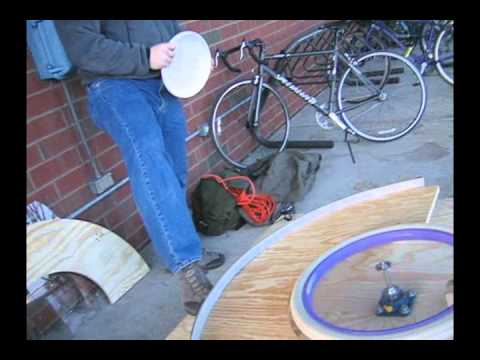 I have also extracted and annotated the following still images in the video that I think are important: